St. Mawgan to Fistral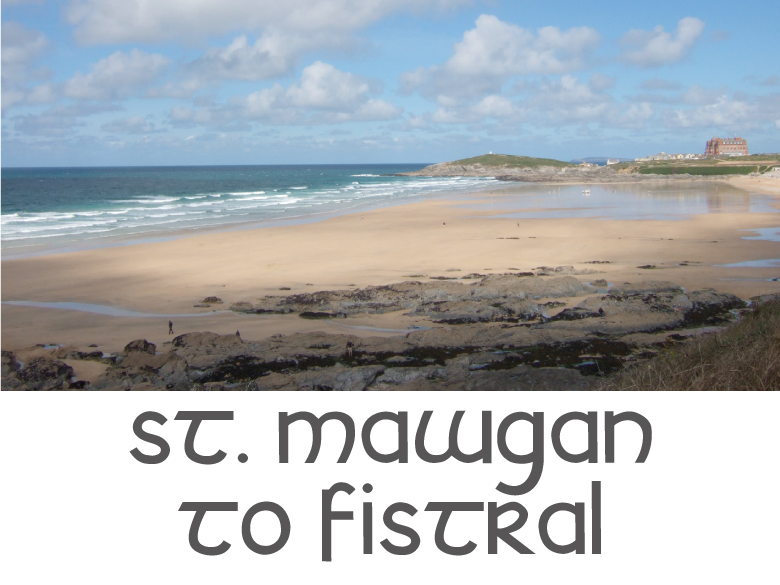 Directions:St. Mawgan to Watergate Bay 
Time: 1.5 hours
Distance: 3miles/ 4.5km
Go up through St. Mawgan Churchyard, past the lantern cross and out through a small gate, emerging onto the road. Walk left and aim for the 'No Speed Limit' sign on the right hand side.  Just before that you'll see the public footpath sign which leads uphill on a sheltered path, through sheep fields and woodland and over a stream. Eventually you are are walking opposite a large pond in a grassy field, go across the stile to your right and then left through a small metal gate. Climb up to the lane, cross, and straight across the next field to the road, walking right to Trevarrian (B3276). At the junction go left, down and into the village of Trevarrian. Then, once you come to another T-Junction, look immediately across the road (and you will see a pathway running along the side of houses). Cross the road and follow the well-defined path to a field gate with a sign 'Watergate Bay 1 mile'. Take his path left, along the upper field boundary and eventually across to the coastpath following the National Trust waymarker signs. Turn left along the cliff coastpath, and on to Watergate Bay.
Directions: Watergate Bay to Fistral Beach
7miles/ 11.5km
3h
Follow the coastpath from Watergate Bay to Porth. Crossing the bridge and onto the fine sandy beach and then on in to Newquay, passing Lusty Glaze and Tolcarne beaches.
Walk through Newquay Town Centre to North Quay Hill, come to the roundabout with 'The Red Lion' pub in one corner, go up the hill to 'Toby Lane' and just before what looks like an old chapel you come to a path that leads you through the golf course to Fistral Beach.