Polperro to Fowey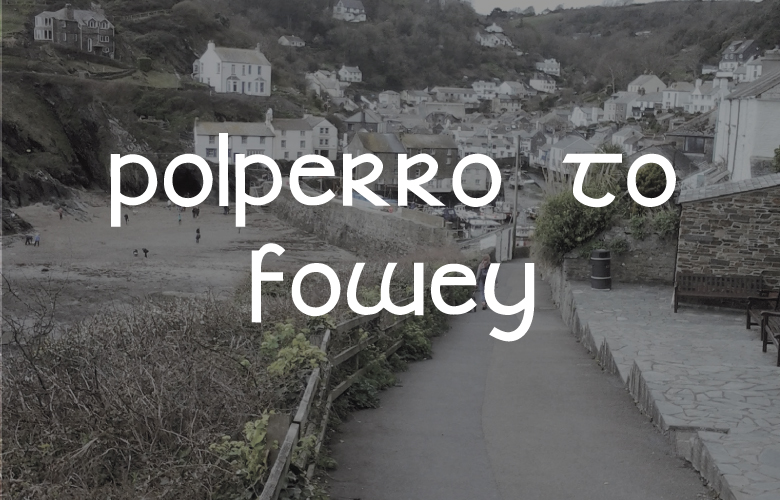 Walk through Polperro to Crumplehorn, take the left hand fork to Langreek, travel along a quiet metalled road (much of which is uphill), turning Right and then Left to Lansallos, following the signs.
From Lansallos Church look for the footpath leading down by a stream towards the coast path. Walk next this a refreshing, bubbling stream which reminded me of Jesus saying: 'I will give you the water of life welling up bubbling up to eternal life' (John 4:13).  You come to a secluded cove, turning Right (West) when you meet the Coastpath and walk for two hours along a very beautiful shoreline with steep inclines to Watch House Cove and Pencarrow Head the coast.  Take some time to look back at Lansallos Church.  How inspiring it is to see these holy sites, set aside for prayer and worship, these markers and refuge points for the Medieval and modern day pilgrims.
At the sheer cliffs of Lantic Bay keep on the high Coastpath until you see a sign directing you to leave the Coastpath to go to the National Trust Pencarrow Car Park. Passing the car park on your right, walk down to Lanteglos Church.
The National Trust has constructed a walk from Lanteglos Church, but in the Springtime we found it was very muddy.  You can use the path by the road instead.  You walk through a calm and tree-lined walk down to the creek of Pont Pill, coming out at Polruan on a walk that you notice is signposted 'Hall Walk'. Visit St Saviour's Chapel before catching the foot ferry.