Perran Sands to Porthtowan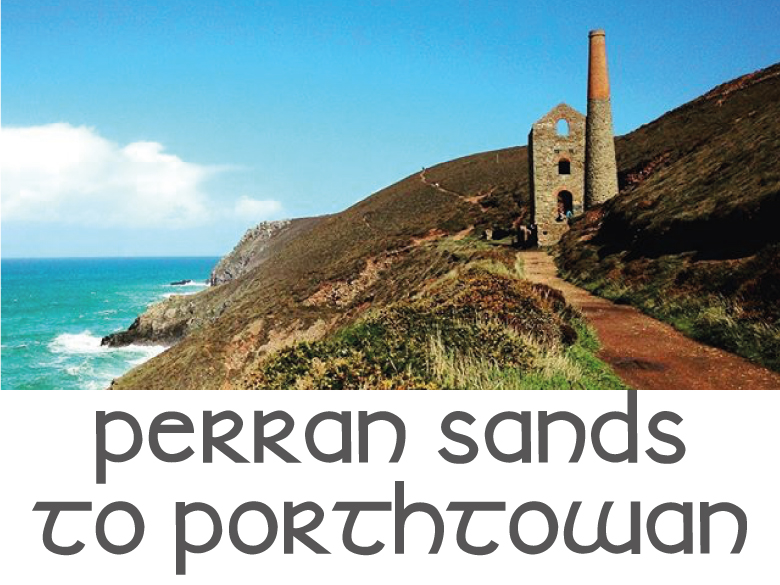 Directions: St. Piran's Oratory, Perran Sands to St Agnes
Timing:  St Piran's Oratory to Perranporth 30 minutes, Perranporth to St Agnes 2¼ Hours
Distance: 5.75 miles/9km
From the oratory find the coastpath to Perranporth. It may be easier to go into the Perran Sands Holiday Park Centre in order to find the  coastpath.
Walk through Perranporth (you can see a Celtic cross on the island in the Gardens), and onto St Agnes along the coastpath. Warning! Be prepared! The descent and ascent to Trevellas Porth is very steep, both coming down to the cove and ascending from it.
On the outskirts of St. Agnes, do not go on to Trenaunce Cove but go up the clearly-marked footpath you will discover on your left leading to 'Peterville' and 'The Village'. When you emerge at a roundabout, take the 'British Road' turning , at the top of the hill and road, turn right to St. Agnes Church.
Directions; St. Agnes to Porthtowan
Distance: 4 Miles/ 6.5km
Timing: 2 hours
By St. Agnes Church go up the road signposted 'Higher Bal', follow the road, taking the sign to the coastpath.
As the coastpath goes near, but not up to, St. Agnes Beacon, look out for kittiwakes as this is the place of the largest breeding colony in the area. Walk on the coastpath to Porthtowan.