Padstow to Constantine Bay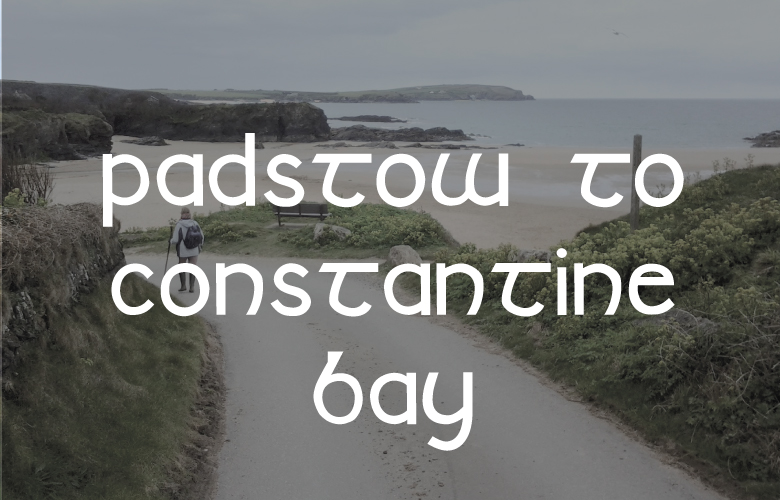 Go out of Padstow Churchyard by the Main Gate and up the hill.

Ignore the first Right at the side of Prideaux Place Wall.

Take the next Right, past the entrance keeping Prideaux Place on your Right.

When road bends slightly to the Right on the Left Had Side there is a Public Footpath/stile through the hedge, across two fields to Trethillick Farm (or you can just stay on the road that takes you there anyway!)

At the farm lane, turn Right and then Left onto a lane so that the Farm Shop entrance is on the Left Hand Side at the crossroads.

Continue on the track for about ten minutes, when the track has a fork, take the Right hand fork that after a hedge continues on a straight line towards the coast.

At the coast, turn left down to Trevone Bay.

Continue on the Coastpath to the next sandy bay – Harlyn Bay.

Leave Coastpath by car park turning Right on the road.

Stay on the road avoiding lane on the Right Hand side to Harlyn.

After ¾ mile or so from Car Park , the road bends sharply to Right.

 

At this point, find the public footpath behind the Left Hand Side home.

 

Take it across the fields to the Church Tower.

Cross the track that leads to the road opposite the Church
(to avoid cattle in these fields you may have to continue on road to St Merryn Crossroads and then take left to St Merryn Church).
After visiting the Church, find a stile in the bottom Left hand corner of the graveyard, by the grey home going through the hedge.

Keep the hedge on your Left hand side for a couple of fields until the stile into the back of the housing estate on 'Donkey Park'.

Take a Right at the village road to St Merryn Crossroads.

Turn Left at the crossroads, past the Farmers Arms on your Right.

After 30 yards go through the stile in the hedge on the Right Hand side.

Follow the stiles along the fields to a small green at 'Towan'

Turn Right onto the road that leads to Constantine Bay.

On arriving at the Golf Course identify the stile at the junction (house and gardens on the left, golf course to the right) that will take you later to Constantine Bay Beach.

Take the narrow road down through the golf course.

Walk along the hedge along the footpath (hedge on your Right Hand side)

At the T-off Hole 14, there is a waymark post showing 'Ahead' and 'Left' arrows.

Take a Left across the grass towards the Maintenance Works with hedge on Right Hand Side.

The well is the structure low down with a roof.

 

The Chapel is up and inside a small hill beyond it.

There is a waymark post beyond the Maintenance yard entrance to show you where you can cross the golf course.

After visiting, retreat to find the stile to Constantine Bay Beach at the Junction opposite the big Club House.